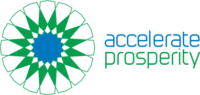 Запрос на выражение заинтересованности
Technical translation services in area of business sector
Accelerate Prosperity
Услуги языковых переводов
---
About Accelerate Prosperity:
Accelerate Prosperity (AP) is a new global initiative of the Aga Khan Development Network (AKDN) in Central and South Asia, which provides a formal structure to catalyze enterprises, where economic opportunities remain insufficient. AP's mission is to create inclusive economic growth and empowerment, with a focus on youth and women in rural areas, by catalyzing sustainable Small and Growing Businesses (SGBs), and by promoting entrepreneurship.
Description:
AP requires a written and simultaneous translation services in Russian, English, and Kyrgyz languages who can support the delivery of  materials due to the necessity, i.e. training materials, speaker's and participants' speeches for activities rendered by AP team.
In many cases, translations are central to the delivery of project outputs and the effective preparation of participants for meetings. To meet the resulting demand for translation and editing of documents and materials, AP seeks a highly qualified service provider with sufficient capacity to undertake
publication and document translations in an efficient and reliable manner. This would include thorough, human review of publications of varying technical complexity, as well as swift turnover when needed. Additionally,  simultaneous translation in three languages during meeting and events organized by AP.
Deliverables:
Written translations of documents requested in all three languages
Simultaneous translation in all three languages online and offline
Simultaneous translation during the events organized by Accelerate Prosperity online and offline;
Written translation of any other materials which occur during the activities
Duties and Responsibilities:
 High-quality, human-reviewed translation -Native (Native Level) Speaker
Replication of final layout based on InDesign or equivalent files from the original version;
Provide support with translation and editing of APs documents and publications;
Ensure high quality of translation, accurately reflecting the meaning found in the original source language (most often English) and rendering that meaning in the translated work;
Be in direct contact with an AP project officer to discuss the precise scope of work and
any specific expectations for each document to be translated.
Quality checks to include:
Assessment and review of document;
Translation of document;
iii. Overall quality review;
Technical accuracy review, including confirmation of technical terms and check against usage in prior AP translations to same language (if any);
Revision and correction in consultation with APs manager or publications staff;
Final check and sign off;
vii. Final product provided in appropriate electronic format, including web-ready PDF and printready files accompanied by complete InDesign package.
Multilingual layout replication
Replication of final layout based on InDesign or equivalent files from original version;
Design adjustments to accommodate differences between languages, including increased word count, reversal of text flow, script and stylistic differences, and other changes;
Thorough proof-reading of laid-out translation;
Corrections as needed based on AP's verification of the translation and layout
Required Qualifications and Experience:
 The translation firm should have a minimum of seven (7) years of experience in technical translation in multiple sectors and various clients. Expertise with translation of texts on business, acceleration, investments, development and economic issues or related fields would be a definite asset. Client experience in translations for intergovernmental organisations or
governments would be asset.
Technical competencies and qualifications of proposed translators should be demonstrated,
including CVs, certifications, or other professional associations memberships.
Proven ability and capacity to deliver translations to meet tight deadlines, such as the flexibility to assign additional translators to complete a project on time.
Review of translations prior to delivery should include checking of spelling and grammar,
confirming technical accuracy, and verifying overall clarity and fluency in every applicable
language. AP will also conduct such verification checks and may request corrections
accordingly.
Provide names and points of contact information for three (3) current references (include email address)
Qualified applicants should submit commercial offers with rates on each language (written and simultaneous) via email to: kg@accelerateprosperity.org
Please include the following in your email:
Minimum rate for simultaneous translation(per hour or per day) and written translation(per page or per symbol)
Subject line: AP – Translation services
To learn more about us, please visit our website at: www.accelerateprosperity.org and www.akdn.org
Thank you for your interest. Only those selected for further screening or an interview will be contacted.