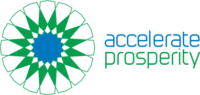 Конкурс
Acceleration Program Intern
Общественный Фонд «Экселерейт Просперити»
---
Reports to: Acceleration team, AP Kyrgyzstan
Location: Bishkek
Work Assignment Period: September – December 2020 (must commit at least 20 hours per week) with an opportunity for further employment 
Payment: Paid 
---
About Accelerate Prosperity:
Accelerate Prosperity (AP) is a new regional initiative of the Aga Khan Development Network (AKDN) in Central and South Asia, which provides a formal structure to catalyze enterprises, where economic opportunities remain insufficient. AP's mission is to inspire Small and Growing Businesses (SGBs) in emerging regions to grow new markets, create sustainable employment, and strengthen communities, with a focus on youth and women in towns and rural areas. Through patient capital and tailored technical assistance and business advisory to startups and existing businesses, AP inspires entrepreneurship by offering acceleration programs, facilitating mentorship, preparing promising enterprises for investment and enabling access to financing.
Job Description:
As an Acceleration Program Intern, you will closely work with Acceleration Manager and Acceleration Analyst to assist in the preparation and coordination of the acceleration programs, the key activity at AP aimed to ensure SGBs' business growth and scaling. Intern will be helping in logistical and administrative work, developing acceleration program activities, and supporting selected entrepreneurs. He/she will also be responsible for conducting monitoring and evaluation activities for continuous improvement of the acceleration program features, as well as further engagement with accelerated companies. You will also be engaged in data collection, analysis, making presentations, reporting and communications. Additionally, you will collaborate with AP's stakeholders including the AKDN agencies, business associations, and other partners to improve AP operations in target markets. 
The ideal candidate must be able to balance multiple responsibilities/deadlines and take full ownership over his/ her work product. He/she will possess a business background and should have passion for startups/SMEs and rural development. He/she should have demonstrated entrepreneurial mindset and attitude (e.g. developing new strategies and processes for projects and small enterprises) and prior internship/job experience working with international organizations and the private sector. Overall, this is an exciting opportunity where you will contribute to the founding stages of an organization in a highly entrepreneurial and collaborative environment.
 Job Responsibilities:
Assist in managing acceleration programs including, but not limited to support in entrepreneurs' selection process, curriculum development, trainer recruitment, and program facilitation;

Execute administrative and logistic tasks pertinent to acceleration program activities; 

Provide support to selected entrepreneurs during acceleration programs, as well as collaborate with accelerated companies; 

Collect and analyze data and communicate recommendations;

Conduct evaluation and analysis of the program and trainers' performance and support other monitoring & evaluation functions; 

Help generate new ideas to grow AP's impact and increase organization presence in the market.
Required Qualifications and Experience:
Minimum 3 years of university studies;

Excellent organizational, communication and technical skills in data collection and synthesis;

Proficiency with PowerPoint and Excel;

Prior internship/work experience working in project management or other relevant sphere;

Self-starter attitude, willingness to learn, demonstrated teamwork, leadership and problem-solving skills either in work setting or extracurricular activities;

Oral and written fluency in English, Russian and Kyrgyz.
Preferred Qualifications
  Bachelor's Degree in Business Administration, Economics, Finance, or related field;
Experience working with NGOs and SMEs;

Internship/work experience in IT startup operations is an asset. 
Please note:
Interns will also be expected to work across all AP work streams upon request — TORs are subject to change;

Successful candidates with an appropriate work authorization will have an opportunity to apply for the position of the Junior Acceleration Analyst at AP upon full completion of the internship. Further employment will require frequent travel to other parts of the Kyrgyz Republic (all travel arrangements costs will be covered by AP).
Qualified applicants should submit a cover letter and CV (no other documents, please) via email to kg@accelerateprosperity.org indicating subject line "Acceleration Program Intern".
Application deadline: October 3, 2020
Accelerate Prosperity is committed to an inclusive, equitable and accessible workplace. 
To learn more about us, please visit our website at www.kg.accelerateprosperity.org,  www.accelerateprosperity.org, and www.akdn.org.
Only those selected for further screening or an interview will be contacted. Thank you for your interest.