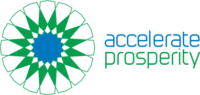 Конкурс
Sales Expert
Public Foundation "Accelerate Prosperity"
Юридические и консультационные услуги | Услуги экспертов и специалистов
---
About Accelerate Prosperity:
Accelerate Prosperity (AP) is a new global initiative of the Aga Khan Development Network (AKDN) in Central and South Asia, which provides a formal structure to catalyze enterprises, where economic opportunities remain insufficient. AP's mission is to create inclusive economic growth and empowerment, with a focus on youth and women in rural areas, by catalyzing sustainable Small and Growing Businesses (SGBs), and by promoting entrepreneurship.
Objective:
Accelerate Prosperity will be conducting its acceleration program for entrepreneurs of Osh, Kyrgyzstan, from September 14 to October 30, 2020. The goal of the program is to ensure growth of selected SGBs with existing track record and annual revenues of 350,000 som+ and make them investment-readt. AP aims to deliver high quality business training along with tailored practical exercises for its cohort of 30 selected entrepreneurs. Current objective is to source a highly-qualified business expert in the Kyrgyz Republic to provide training services for the selected participants.
Assignment Description:
An expert will be responsible for delivering a 3-hour workshop, tailored for acceleration program participants, on how entrepreneurs can build a sales system or improve an existing one, establish a sales team and utilize different sales techniques to grow their businesses. Workshop shall cover the explanation of the following topics:
Analysis of existing sales channels and finding the most effective tools;
Sales features in B2B and B2C;
Sales chain efficiency and choice of distributor;
Building an online and offline sales funnel
Deliverables:
1.      Delivery of a 2-hour theoretical lecture session;
2.      Conduction of a 1-hour practical and/or interactive session including group-based Question and Answer session;
3.      Provision of handouts:
a.      Presentation covering theoretical base of indicated topics;
b.      Examples and models of sales funnel development;
c.       Other templates and lecture-related documents, drawing heavily from personal experiences or relevant business case studies.
Qualified applicants should submit CV and commercial letter via email to kg@accelerateprosperity.org indicating the subject line "Sales expert".