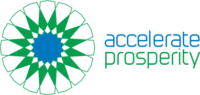 Конкурс
Business Development Analyst
Public Foundation "Accelerate Prosperity"
Бизнес | Финансовые и банковские услуги | Страхование | Аудит
---
Title: Business Development Analyst (with focus on Communications and PR)
Reports to:  Business Development Manager (BDM), Accelerate Prosperity
Location: Bishkek
Salary and package: To attract the best candidate
Please note: Travel will be required to the regions of Kyrgyz Republic
---
About Accelerate Prosperity:
Accelerate Prosperity (AP) is a new global initiative of the Aga Khan Development Network (AKDN) in Central and South Asia, which provides a formal structure to catalyze enterprises, where economic opportunities remain insufficient. AP's mission is to create inclusive economic growth and empowerment, with a focus on youth and women in rural areas, by catalyzing sustainable Small and Growing Businesses (SGBs), and by promoting entrepreneurship. Through patient capital and tailored technical assistance and business advisory to startups and existing businesses, AP inspires entrepreneurship by offering lean startup incubation, preparing promising enterprises for investment, facilitating mentorship, and enabling access to angel and investment financing.
Job Description:
As a Business Development Analyst with AP, you will be responsible for AP's communications and marketing strategy, donor relations and reporting, and developing new monitoring and data collection tools for program learning, reporting and communications. This role requires a high level of proficiency in writing (English, Russian, Kyrgyz), partnership building, and creativity (i.e. marketing, graphic design). For effective communications, the position must manage data and learning activities. The ideal candidate must be able to balance multiple responsibilities/deadlines and take full ownership over his / her work product.
You will work closely with AP's Country Manager and Business Development Manager on a daily basis to produce necessary communications/marketing materials. Additionally, you will frequently collaborate with AP's stakeholders. You will lead program monitoring, learning, reporting and communication requirements, in close collaboration with the AP team. You will track performance of AP's beneficiaries and suggest program improvements based on feedback from the tools you deploy.
You will be responsible for creating all of AP's internal communications materials and reporting materials for donors and partners (i.e. success stories, progress reports, presentations). You will also be responsible for creating all external-facing PR and communications materials, including AP's website, press releases, and social media channels. This will at times include management of any PR engagements with external media agencies, such as TV and news organizations.
Job Responsibilities:
Represent AP and its mission, programs, products and services in a strong, positive manner to relevant stakeholders
Create all of AP's communication materials including, but not limited to: press releases, program success stories, AP's Dashboard for the Board and internal management, newsletters of AP's activities to all relevant stakeholders
Manage all of AP's social media accounts and website, and drive engagement across all platforms through frequent and high-quality posts
Design/create new marketing/PR materials for AP to utilize, such as banners, photos, posters, short videos, adverts to engage entrepreneurs, the business community, mass media and other stakeholders both online and offline
Сoordinate pre-selection events and provide support in organizing other events related to AP's presence and growth
Effectively build and manage AP's relationships with the AKDN, donors, and other partners. This includes completing quarterly written reports, regular business meetings, participation in relevant internal/external forums]
Generate new business ideas to grow AP's reach, social impact, and financial sustainability
Support in developing quarterly analytical papers on market developments and programs around SGB/SME support
Actively collaborate with AP team, including validating service-market fit of AP's acceleration and investment activities
Other works related tasks requested by Business Development Manager
Required Qualifications and Experience:
Bachelor's Degree required in Economics, Marketing, Journalism, Sociology or other fields related
At least 3 to 5 years of experience in Communications/Marketing roles
Strong demonstrated technical skills in writing (English, Russian, Kyrgyz): i.e. communications strategy, marketing/branding, graphic design
Familiarity with Photoshop, Illustrator, InDesign, Canva, web design, or other similar software would be a strong asset.
Understanding of Search Engine Optimization, Google Analytics, and other related marketing/social media strategies
Demonstrated entrepreneurial mindset and attitude: e.g. developing new strategies, processes and capacities for small enterprises or initiatives
Strong personal presence, leadership skills, verbal and written communication skills to act as an effective influencer and negotiator at senior levels of relationship management
Oral and written fluency in English, Kyrgyz and Russian
Preferred Qualifications
    Experience working with Mass Media
    Experience working with international organizations
 Accelerate Prosperity is committed to an inclusive, equitable and accessible workplace. We welcome applications from minority group members, women, persons with disabilities, and others who respect and reflect the diversity of our service users.
 Qualified applicants should submit a cover letter, CV, (no other documents, please) via email to kg@accelerateprosperity.org. No phone calls please. Only applicants invited for an interview will be contacted.
Subject line: Business Development Analyst, Kyrgyz Republic
Application deadline: December 7th, 2020
To learn more about us, please visit our website at www.accelerateprosperity.org and www.akdn.org
Thank you for your interest. Only those selected for further screening or an interview will be contacted.