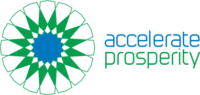 Конкурс
Junior Investment Analyst
Public Foundation "Accelerate Prosperity"
---
Job Description: Junior Investment Analyst
Accelerate Prosperity, Kyrgyz Republic
Title: Junior Investment Analyst, Accelerate Prosperity, Kyrgyz Republic
Reports to: Country Director and Investment Lead, Accelerate Prosperity, Kyrgyz Republic
Location: Bishkek (with frequent travels to regions)
Salary and package: To attract the best candidate.
---
About Accelerate Prosperity
Accelerate Prosperity (AP) is a part of a new initiative of the Aga Khan Development Network (AKDN) in Central and South Asia, which provides a formal structure to catalyze enterprises, where economic opportunities remain insufficient. Through patient capital and tailored technical assistance to startups and Small and Growing Businesses (SGBs), AP facilitates mentorship, enables promising enterprises to become finance and investment-ready, and enables access to tailored financing and business networks.
To deliver strong technical assistance content to SGBs, AP will conduct ongoing consultations with businesses in the target areas in order to design a market-responsive acceleration programme, access to growth financing and post-financing technical assistance.
Job Responsibilities:
Analyze target and portfolio companies' financial statements and prepare forecasts.
Support senior team members in all phases of the investment life cycle e.g. pipeline sourcing, evaluation of prospective investment, Investment Committee presentations, Investment Memorandum and Financial model preparation, due diligence, delivery of value creation plan, exit of portfolio companies, drafting deal term sheets etc.
Develop/review comprehensive financial models to support investment transactions and portfolio monitoring.
Coordinate external due diligence and other advisers working on transactions or delivery of value creation plan for portfolio companies
Program Delivery: assist in implementation of different components of AP's acceleration programme, including: (but not limited to) company selection and interviewing, specific trainings delivery and technical assistance, mentorship
Conduct and/or facilitate post investment technical assistance for selected companies.
Assist in preparing financial and narrative reports according to the donor contact in a timely manner.
Assist with other urgent tasks if necessary
Required Qualifications and Experience:
Minimum 1-3 years' relevant experience financing or facilitating financing to SMEs either at financial institutions (e.g banks, audit, consulting companies) or at an investment fund in an analytical role.
Bachelor's degree or equivalent in business, economics, mathematics or other relevant fields.
Good knowledge of financial analysis, corporate finance and investment valuation is a major asset
Participation in CFA/ACCA or other relevant certifications is a major asset
Proficiency in Kyrgyz, English and Russian are
Must possess excellent leadership, communication, interpersonal, analytical, conceptual, and partner relations
Must be client-oriented, proactive, skilled with operational aspects of programming (i.e. support administration/logistics/finance processes), creative, results-oriented and meet tight timelines.
Good reporting and writing skills are required.
Advanced Excel skills, Financial modeling and Power Point presentation skills are required
Accelerate Prosperity is committed to an inclusive, equitable and accessible workplace. We welcome applications from minority group members, women, persons with disabilities, and others who respect and reflect the diversity of our service users.
Qualified applicants should submit a cover letter and CV (no other documents, please) via email: kg@accelerateprosperity.org
Subject line: Junior Investment Analyst
Application deadline: January 17, 2021
To learn more about us, please visit our website at: www.accelerateprosperity.org and www.akdn.org
Thank you for your interest. Only those selected for further screening or an interview will be contacted.